Gym Workouts Hav​​e Changed During the Pandemic: Exploring the New Exercise Mentality

The pandemic has shifted the way people think and feel about a lot of things, sometimes in a positive way. For gym-goers, there was a shift in the way we workout. Staying active is key, and it's a great anxiety reliever from the stressors from global changes.
Whether the gym was your home away from home or you started going to combat a more sedentary life, it's been interesting to see how people have evolved their workouts. Here are some lessons learned about how to get more out of your gym time.
Gyms over the pandemic had hour-long time slots you had to book and a minimal capacity for people to get workouts in. It was a bit of a hassle, and if you are someone who previously lollygagged (which seems like the best word used to describe males that take their sweet time at the gym between heavy lifts,) that firm hour, we all had to adhere to creating an urgency for efficiency. In that time, it had people going in with a game plan and trying to get the most out of their routine.

Over the pandemic, when you were at home, did you order workout equipment? Maybe a kettlebell, straps, or a cordless jump rope? Did you get outside and hike/jog/run? How about taking some extra long walks with your dog? People got outside, and they came up with some unique workout ideas to stay active. Early on in the pandemic, finding weights at home in everyday items was a fun challenge. From a bucket of kitty litter to the classic soup cans, getting creative was another positive. Gyms also started offering online workouts to their members, and that camaraderie, even if only online, was felt strongly.

Reconnecting with your body and giving it time to rest was something learned over that time out of the gym. Whether focusing on the fact that your regular exercise routine was disrupted and you would lose your gains or finding alternative ways to move your body, there was a rollercoaster of emotions endured for the steady gym-goers. Now, hopefully, getting back in the gym with a stronger mindset and being efficient in your time there, focusing on full-body moves is a great hack. Even if you are on a leg day, there is no reason why you can't sneak your abs in at the end OR as many workout videos and trainers can be quoted as saying, "engage your core."
Every time you go into the gym, have your overall game plan, envision success going into it. From there, think of ways you can incorporate your whole body into every move you do. Ground into that and focus on engaging your core, obviously, but all your muscles. What minor tweaks can you do to your form to hit something differently? Can you move laterally or focus on posterior chain exercises along with the more common front-loading ones? Slight shifts in your movements, positioning, the types of weights you use (dumbbells, plates, kettlebells, cables) these changes can be impactful and create a full-body workout, even if you are focusing only on the upper or lower body that day.
Everyone is going into the gym now like it's an hourly wage job. They make the most of it, and people seem kinder, more thoughtful. But also efficient and CLEAN. For the observant germaphobes out there, we see you. Taking up a machine or space for an extended period is cool if you make the most of it and get creative within the area on the gym floor you have. If you like to go from one machine to another on a circuit, that's cool too. Going in with a purpose but having a lax attitude seems to be the new gym mentality.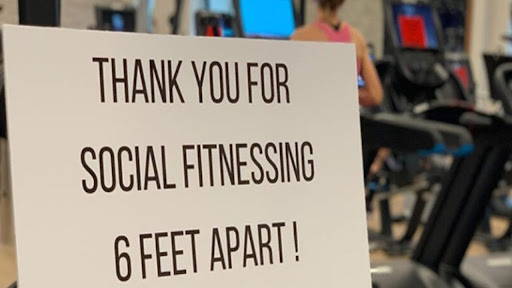 It's all about everyone doing their best for themselves and being mindful of others wanting to do the same. Gyms are different now, and people are more intentional. Staying active and being open to switching things up is a great attitude to have when you step foot back into the gym. We are all looking to go back to 'normal,' but really, it's about being a part of a healthy community. That's the gym-going mentality we can all adapt to.